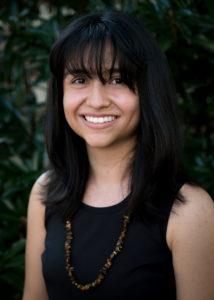 Carol is currently a commercial producer at WLFL | WRDC in Raleigh, North Carolina.
She has several years of experience producing videos and creating motion graphics.
Her long-term goal is to work at a digital media company, such as Great Big Story and Broadly. She would like to produce multimedia projects with an educational focus.
She earned a M.A. in Mass Communication with a focus on Journalism at UNC-Chapel Hill. While there, she was part of the team that produced the award winning animation of Dorothy Vaughan for the Morehead Planetarium and Science Center's "Hidden Stories" series. She was also the News Director for Carolina Now and Carolina Ahora, two daily 5-minute news shows that go live on Facebook. She guided more than 40 students through the process of broadcast production, while she also assigned and distributed tasks as necessary to meet the overall team efficiency.
She graduated from Rafael Landívar University with a major in Communication Sciences focused on Communication for Development. During her undergraduate studies, she worked as a student research assistant for the Director of the Humanistic Studies Institute. It was here that her interest for research developed into a professional goal: to create multimedia narratives of high caliber with a firm research grounding.
Following graduation, she continued working at the Institute, this time as webmaster and communications administrator of the Web platform "Guatemala: Memoria Viva" (Guatemala: Living Memory). The aim of this website is to become part of teachers' syllabi as a dynamic educational tool that offers an uncensored telling of Guatemala's history. Throughout this time, she also worked as a teaching assistant in several courses, progressively turning teaching  into one of her career goals. These courses included: Alternative Television, Communication Debates II – Strategic Planning Scenarios, Diversity and Cultures in Guatemala, and Applied Semiotics.
Save
Save
Save