YouTube is restricting a third of video reviews on the top brand of period underwear. What gets filtered and what doesn't?
---
By Carol Bono     March 26, 2018
---
Jessica Bennett, or The Ethical Fox as she is known on her YouTube channel, is sitting in front of a camera, her back to a white wall. "Hello, everyone!" she waves to potential viewers. "This is going to be my Thinx review of their period panties." Her gaze shifts towards the right of the screen as she explains the structure of her video: "I'm gonna go from heaviest days to lightest days." Bennett grabs a pair of underwear and holds it up: "This one is the Hiphuggers. I really like the lace that goes up the top, it's really pretty."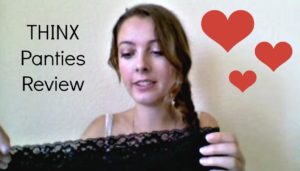 This video is just one of what's become an explosion of user reviews of period underwear, one of two alternative menstrual products that have gained momentum in the 2010s. Period underwear, as the name suggests, is underwear that can be used on its own as a menstrual product. The other product to gain momentum is the menstrual cup, a product that is actually not new. This cup, patented in 1937, is inserted into the vagina and collects menstrual blood.
Both products are reusable. When the menstrual cup is filled, it's removed, emptied, rinsed, and inserted again to repeat the process. The underwear, once it reaches its full capacity, is taken off, rinsed, and washed with the rest of laundry.
Of course, the two most known products in the menstrual hygiene market are disposable pads and tampons. "We've all been told that we're gonna use two products," says Mandy Gladden, a YouTube content creator. "It was pretty much pads and tampons, […]  there really was no talk of anything else or alternative or things like that."
A brief history of menstrual marketing
In the United States, the first advertisements about menstrual products appeared in the 1920s. Up to that point, women used washable menstrual cloths. In the following decades, advertisers have relied heavily on euphemisms in their publicity, even going to the extreme of not mentioning the purpose of the advertised product.
A Modess print ad from 1948 clearly illustrates this situation. In it, a woman is shown wearing high couture fashion, posing elegantly, with a tagline that reads: "Modess… because."
This treatment was carried into televised advertisements. During the 1970s, advertisers didn't even worry about coming up with euphemisms for period, menstruation, or vagina. They just avoided that discussion all together.
Advertisements in the 1980s introduced a now widely-known cliché: the connection between peaceful meadows and feminine hygiene.
In the mid-1990's, the blue liquid first made its appearance in television ads, adding yet another layer to the cocoon of political correctness surrounding menstruation. The lack of the color red also occurred in print ads. This omission was done intentionally to avoid any possible connection to menstruation.
In 2010, Kotex, one of the leading brands in menstrual hygiene, came out with a campaign titled Break the Cycle, in which it acknowledged all the ridiculous storylines and tropes it helped create.
Three years later, a video ad titled The Camp Gyno emerged. It came from HelloFlo, a company which provides care packages to girls and women through transitional moments, such as period starter kits.
This ad clearly diverts from the norm: one clear example is when a girl (aka the Camp Gyno) shows other girls a "menstruation demonstration" by taping a ketchup bottle to a doll. Since that video, HelloFlo has relied solely on a digital campaign, releasing their ads through their YouTube channel.
The surge and purge of Thinx on YouTube
Like HelloFlo, Thinx's marketing has mainly taken place online, spreading the word about this innovative product. Their campaign has proven to be effective. Currently, Thinx is the number one brand for period underwear. In fact, since 2015, people have searched for the term Thinx on Google more than any other period underwear brand or even the phrases period panties and period underwear.
Thinx's rise to popularity started with the company's own videos and with news show segments. On June of 2015, Bennett added a new type of media to the mix. "I loved [Thinx] so much that I wanted to share with other people and, at the time, there weren't any other Thinx reviews." That's what motivated her to upload the first Thinx video review, "I just wanted to get it out there because that's what really drives me into buying products, is when I see another person giving an honest review."
Since Bennett's video, more people started uploading their own Thinx video reviews on YouTube. One of them was Gladden in 2016. Structurally, both videos are quite similar: one woman is seen the entire time explaining how the underwear works, holding up the underwear at certain moments.
However, when YouTube's Restricted Mode is turned on, Gladden's video is blocked while Bennett's remains.
Restricted Mode is an option offered by YouTube which filters out videos that, according to the video-sharing website, contain "potentially mature content," such as drugs and alcohol, violence, profane and mature language, sexual situations, and incendiary and demeaning content. Restricted Mode is mostly used in settings that involve children, such as schools, libraries, and families with young kids.
Videos are restricted through YouTube's automated system, which "looks at signals like the video's metadata, title, and the language used in the video." The company also explains that some videos may be unavailable in Restricted Mode "as a result of human reviewers applying an age-restriction to a video."
As of March 2018, if you search the term Thinx on YouTube, you will end up with 11,300 results. However, when you toggle the settings to Restricted Mode, the number of results is reduced to 7,260 videos. More than one third of the videos are blocked.
For Bennett, the restrictions only make sense if the videos included swear words. "I don't see any good reason why a Thinx video should be restricted, unless I guess if you're using profane language." A couple of the most viewed video reviews do include some type of profanity, some more offensive than others. "But other than that," she continues, "I don't know why periods would get restricted because it's just something that happens."
Video reviews on menstrual products find themselves in a particular situation. Even though they don't deal with sexual content, they do talk about blood and sexual organs. Two videos in particular contain the word vagina: one video is restricted, while the other is not (even though it used to be restricted back in November 2017). Bennett considers the inclusion of this word may block videos erroneously, "since it's not sexual talk, it's just talking about body stuff and what's going on in the body. Hopefully, they could appeal that, because that's just dumb that the one word could make any big difference."
Gladden doesn't mention sexual organs in her video. In fact, it seems her video review complies to YouTube's overall guidelines. However, she was never notified when her video was blocked in Restricted Mode, let alone given an explanation as to why it was restricted. From past experiences, she doubts she'll ever get a clear response. "YouTube is so… you can't talk to anybody at YouTube. It's like… I don't know. You can't get a hold of anybody."
It's not exactly clear what parameters YouTube employs when determining which Thinx video reviews should be restricted and which ones should not. In both categories, there are videos where women show the underwear on screen (restricted, unrestricted) and videos where women show someone wearing the underwear (either themselves or someone else).

The inconsistency of these restrictions begs the question: could all Thinx video reviews be restricted at some point? It's understandable why videos with profane language are filtered out, but other restricted videos have similar counterparts which are unrestricted.
Even though YouTube does offer overall parameters about which type of content will be blocked out of Restricted Mode, Gladden wishes they could give a more detailed explanation to video creators. "It would be beneficial, I think, if they gave clear guidelines. I'm just not quite sure they have said clear guidelines. If they do, I haven't seen them," she explains, stating that the ever-changing nature of algorithms could inevitably make a set of guidelines obsolete. "Algorithms are constantly changing, [as well as] what they want to be seen and what they don't."
Back in March of 2017, many LGBTQ+ videos did not appear on YouTube while on Restricted Mode. These included a same-sex couple's wedding vows and a music video from Tegan and Sara, which don't include harmful content for children. After a few days, and numerous complaints, YouTube extended an apology on their Twitter account.
A month later, Johanna Wright, vice president of Product Management at YouTube, released a statement explaining they had "fixed an issue that was incorrectly filtering videos for this feature, and now 12 million additional videos of all types — including hundreds of thousands featuring LGBTQ+ content — are available in Restricted Mode."
In this situation, YouTube's actions demonstrate the company is aware that their algorithms can and do restrict more than they should. But when 300 hours of videos are uploaded to their platform every minute, counting on algorithms to do the heavy lifting is an understandable decision. Sifting through this amount of content without any errors seems near impossible.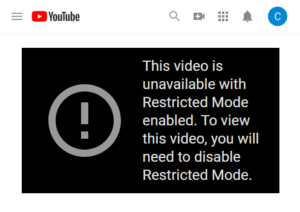 As a mother, Gladden appreciates the intention behind the Restricted Mode. "Restricted videos, to a degree, are great because I have kids and YouTube is a scary place." She clarifies that, at times, YouTube's algorithms don't make much sense. "You can get restricted for the weirdest things. Maybe some word or some way you said something or something that you said and making you restricted."
After the LGBTQ+ incident, YouTube created a form that creators can use if they consider that their videos were wrongfully restricted.
Even though this seems like a legitimate olive branch, Madden is not sure if filling out the form will be helpful. She has heard from other YouTubers that trying to repeatedly appeal wrongfully flagged and/or demonetized videos resulted in harsh consequences. "I heard from other people that, if you mess with it too much, they will just shut down your channel."
In YouTube's statement, Wright explains that, although Restricted Mode isn't perfect, "we hope to build on our progress so far to continue making our systems more accurate and the overall Restricted Mode experience better over time." But YouTube has to realize that restricting menstrual product video reviews that comply to their guidelines only perpetuates the idea that menstruation is a taboo topic. As Gladden puts it, "you can be a kid and watch YouTube videos with blood and gore and all kinds of crazy stuff. I talk about a period and get restricted."
We need these product reviews. Period.
It's crucial that menstruation isn't made into a taboo topic, especially since the topic is a health issue. Bennett recalls several viewers thanked her for the way she talked about Thinx and how she portrayed periods. "In my video I get a lot of comments of people saying, 'wow, you made periods sound not taboo at all,' which they really appreciated."
Bennett and Gladden realize that some people will react negatively to their Thinx video reviews, regardless of the way they portrayed the product. In fact, they both were unsure of the product's claim when they first found out about it.
"I was really skeptical going into it, [I thought] that it was going to be nasty, but it's really not," explains Bennett.
Even though Gladden found Thinx odd, she bought a couple and immediately became a fan. "This is pretty legit. This is a serious thing and they work and they're not as gross as everybody would think they are."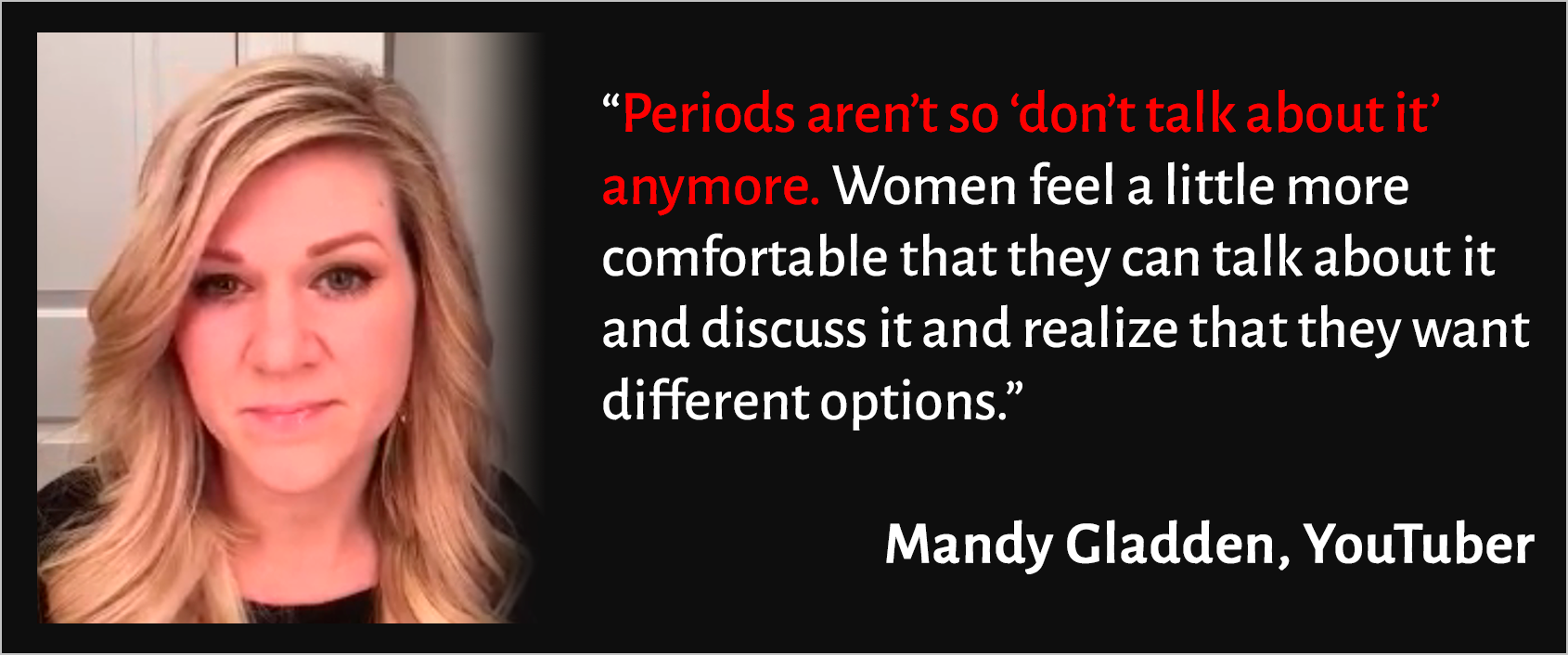 Despite the fact that Thinx videos may shun away some people, others appreciate them. For Bennett, the biggest contribution of her video review is that people have written her, explaining that they feel comfortable talking to her about their periods and helping to destigmatize periods. "I don't think I noticed that when I was putting [the video] up," she says, stating that she wasn't trying to be an advocate. "I've been a feminist my whole life. I guess that's just who I am, so I'm just glad it had such a positive impact for some people."
These video reviews are key elements of the public conversation, both in commerce and health discussions. This is why it's important for YouTubers to understand how the Restricted Mode algorithms work, in order to continue serving their audience and the public in the best way. But it's just as imperative for viewers to know what may or may not be filtered due to overly restrictive coding.
"Women want the God honest truth. We want what is real. And I think that a lot of traditional media is not what's real," Gladden states. For her, YouTubers, influencers, and vloggers play a significant role. "People who do these reviews are so big because you're getting people, just like you, that are taking the product and they're telling you their thoughts about it, instead of you watching that commercial that is that paid model who's like a size zero in her white pants running around… that's not us. Yeah, there are some women like that, but that's not the majority of people."